Monday, May 20, 2013
Pet photography is actually an art that requires knowledge in capturing your pets with just the right expression. You know that taking pictures of your pet is not an easy thing to do. They definitely can't hold a pose for you to take their picture. So, if you wish to capture a treasured photo of your family pet then there are a few things you need to know that will help you capture great photos of your pets.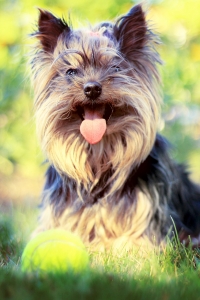 1) Before you do anything else, read and study your manual first. Nothing is more frustrating than trying to figure out the best settings as your dog does a triple flip off the diving board.
2) If you want to have a crisp, clean, with no blur images, set your shutter speed to at least 1/250 of a second or faster. If you're using a point and shoot, just set the dial on the action icon.
3) Watch and wait for the right pose or expression that represents the character of your pet. This might take some time, so relax and be patient. Sometimes you can get lucky if it happens very quickly but there are also times when you'd feel you will never get the shot. Hence, always keep in mind that capturing stunning photos of your pets requires a lot of patience.
4) Shoot often and continuously so that your pet will get used to the sound of the camera. This will also allow you to capture candid shots in between formal poses. You might be surprised at some of the images you captured when you review them.
5) The character and soul of your pet can be more dramatically captured if you get down to their eye level. So unless your pet is a horse, you would need to get down low enough to photograph at eye level. If you are taking a picture of a cat or a puppy, get flat on the floor and use your elbows to prop your camera up to your eye. You may experiment with different angles to come up with exceptional portrait. You can try shooting down from above by standing on a chair or anything solid. Just remember, the eyes should be in perfect focus to produce effective and unique photos.
6) You can use props like battery-operated toys, a whistle, or a bright cloth flapping in the wind to capture dynamic expressions. But be ready and be quick as props only work until your pet gets bored.
7) Poor backgrounds could ruin pet photographs. Move your pet to another location if the background shows a garbage truck, an ugly fence, or a parking lot. You can also crop out background clutter that you can't eliminate by moving in close to your pet to give your viewer a sense of being right there.
8) Avoid using the digital camera's integrated flash. Such light changes the shades and hues of your pet and flattens all the details on the image. It could also cause red eye to your pet photo, creating that satanic and possessed appearance.
9) Don't forget to use the rules of good composition in photography. Aside from getting that interesting shot or perfect expression, make sure that you are using your thirds, the background complements the subject and that your background is uncluttered.
There are actually quite a handful of things to remember in such a short span of time when you're working with animals. So, I agree when they say taking pet portraits is quite challenging but it's also extremely rewarding to say the least.
Posted by admin at 07:44:08 in General